Once the table type field has been configured, with each of its columns, it will be necessary to identify the header or column to which the dictionary will be linked. This header must be selected as "select" type.
Advanced administration must be accessed at Home » Smartmetadata » Smart table fields.

From Smart table flieds, search for the name of the column or field header. Once the object is identified, enter it and go to the "Optional" section where the Dictionary item is located.

The previously created dictionary must be selected and click on save.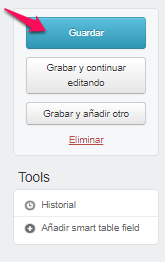 Once the above is configured, enter the form and on the table type field on the column that is of type select, it should bring the selected dictionary.