You can add a user from the user menu available in the right navigation bar.
To access the users menu, you need to be a team administrator. If you are not an administrator of your team, you will not see this menu in the navigation bar.
To add a user to your team, click on the "Add user" button in the Users tab of the users menu.
You will then need to enter an email address for the user and click Add.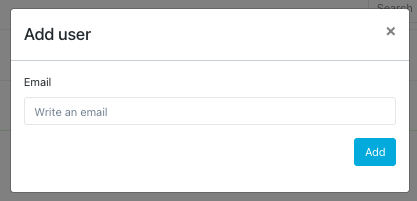 An invitation will be sent to the user via email with a link that will allow them to automatically log in to the tool. Once logged in, they will receive a new email with their password.

If the user already exists in the application, they will be added to the team from which the invitation is being sent.