IMPORTANT:
This functionality requires access to advanced administration.
You can disable the quick change lifecycle functionality, so that the lifecycle can only be updated once the pop-up window opens.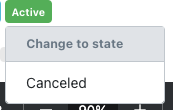 To do this, go to the administration. Once in the administration, from "Config Propertys" look for the entry "life_cycle_show_state_dropdown_menu". You will need to change its value to "False". This change will apply to all life cycles of your installation.